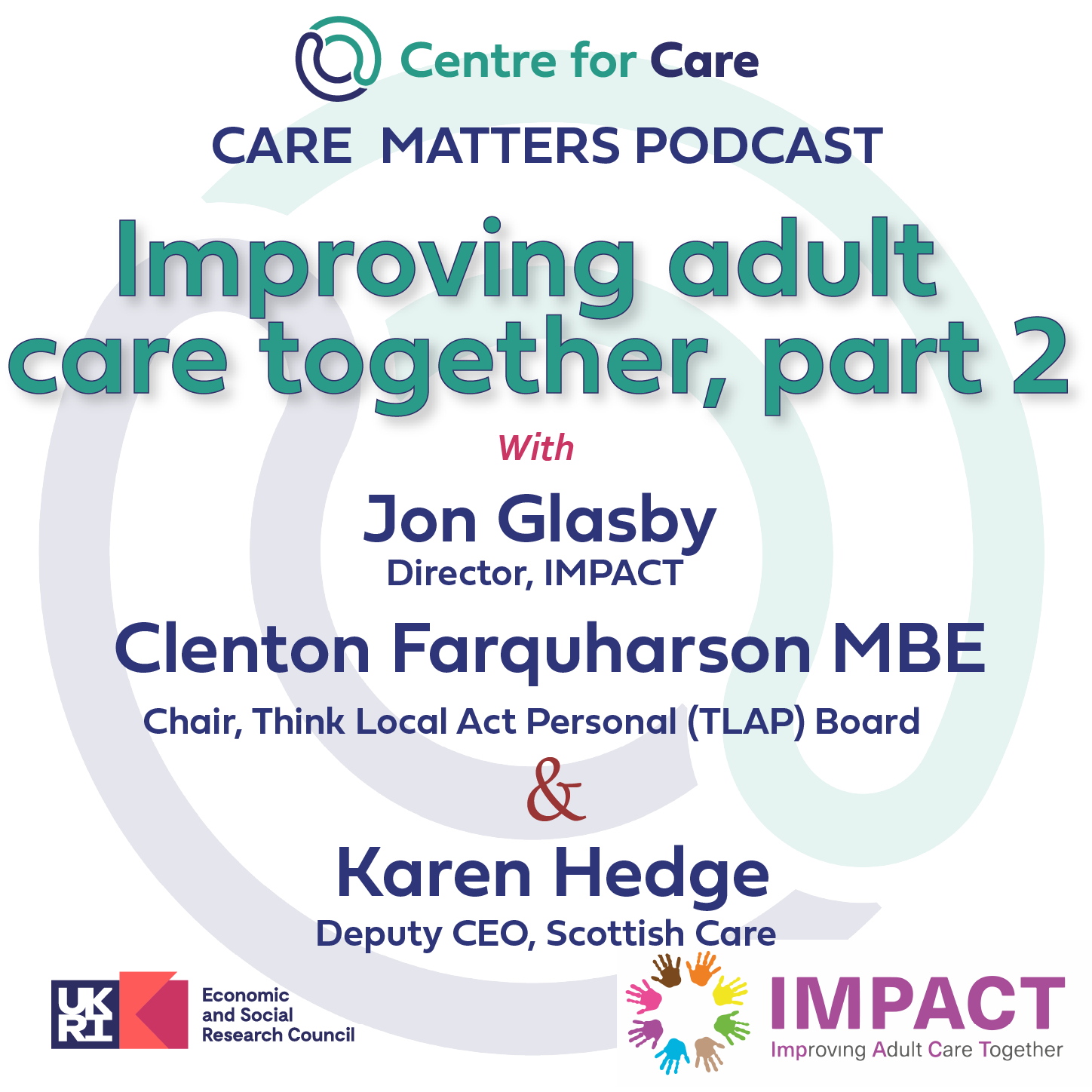 We are pleased to bring you a two-part episode, hosted by IMPACT Director, Jon Glasby, focussing on the work being done in IMPACT (IMProving Adult Care Together), the new UK centre for implementing evidence in adult social care.  Funded, by the ESRC and the Health Foundation, with £15m over nearly 7 years, IMPACT seeks to help evidence of what works get used in practice to make a difference to services, and hence to people's lives. 
"We believe that good care isn't about services, but about having a life – and that evidence can play a key part in achieving this vision."
The University of Sheffield is a partner in IMPACT. IMPACT draws on knowledge gained from different types of research, the lived experience of people using services and carers, and the practice knowledge of social care staff.  
Part 2
Jon Glasby (Host)
Jon is a qualified social worker by background, and works as Professor of Health and Social Care at the University of Birmingham.  He is Director of IMPACT. Click here to learn more at Jon's profile page at the University of Birmingham.
Clenton Farquharson MBE
Clenton is a disabled person with lived experience who draws upon health and social care. Clenton employs his own Personal Assistance, and he looks after his mum's personal budget which his mum uses for her own personal assistance.
He is Chair of the Think Local Act Personal (click here to learn more) programme board, and member of the Coalition for Personalised Care. He is also a member of the Social Care Sector COVID-19 Stakeholder Group which will ensure that concerted and determined action continues to be taken to reduce the risk of transmission of COVID-19 in the sector, both for those who rely on care and support and the social care workforce.
Clenton was named in Disability News Services' list of influential disabled people and listed in the top 50 of HSJ's most influential Black, Asian and minority ethnic people in health. He was also voted top social care leader in the recent Social Care Top 30 awards hosted by Care Talk magazine.
Karen Hedge
As National Director for Scottish Care (click here to learn more), Karen is working to shape the future of social care but is frustrated by the failure of traditional research to move beyond the 'proof of concept' stage. She believes IMPACT offers an exciting opportunity to reconsider our approach to evidence implementation by recognising the value and capability of the social care sector. Creating the conditions for real collaboration, critically including those who work in and access care and support, will allow us to move not only to research implementation but embedding. She brings over 20 years sector experience from frontline to Board level, and a passion for evidencing impact in outcomes for people.
------
CIRCLE website: http://circle.group.shef.ac.uk/

---Intro/outro music: Ambient Cool by Sunsearcher is licensed under CC BY-SA 3.0
Gain/fade effects applied