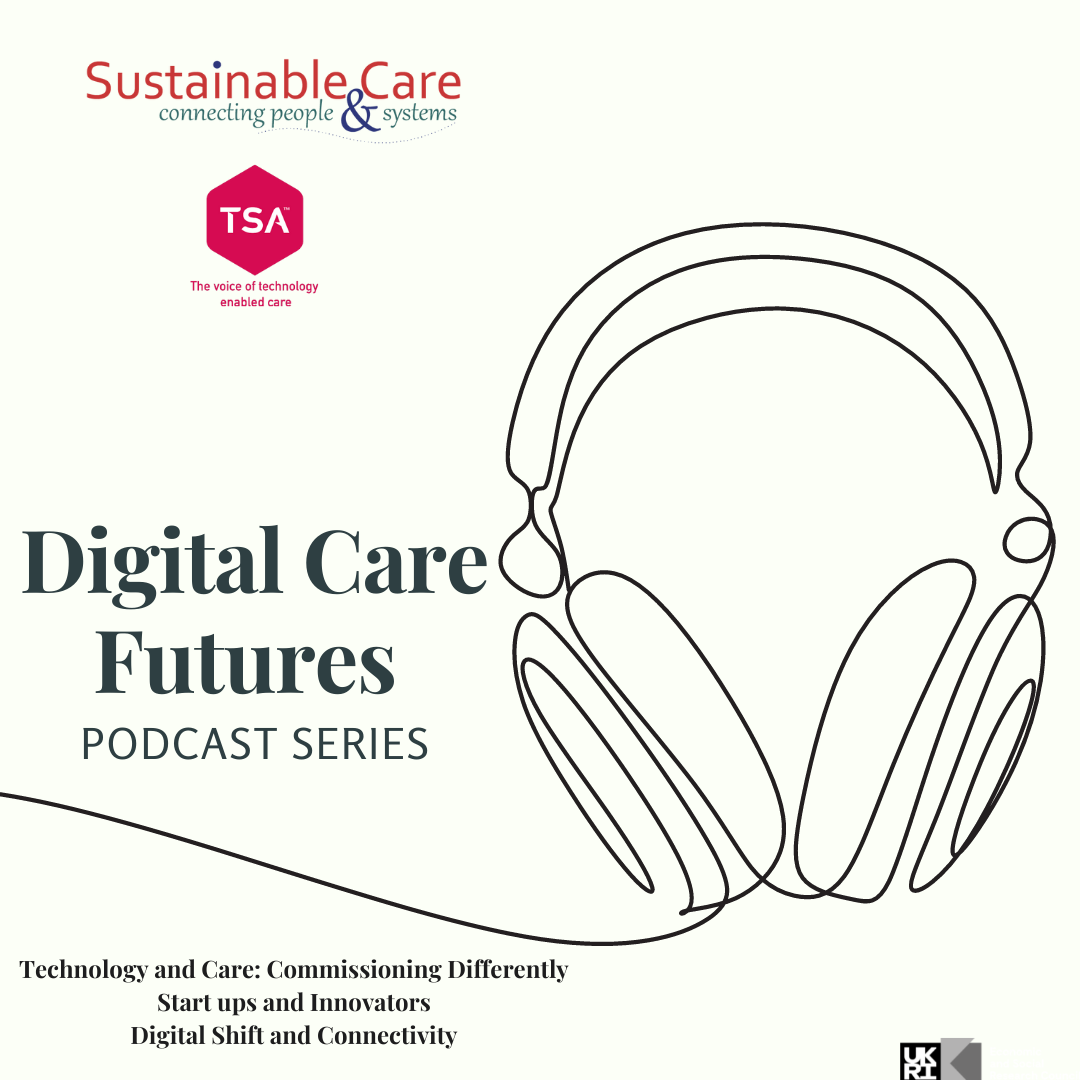 Digital Care Futures
3. Digital Shift and Connectivity
In this final episode of the Sustainable Care and TSA Digital Care Futures podcast, Kate Hamblin (University of Sheffield) and Tim Mulrey (TSA) spoke to guests from two local authorities that had explored how to promote digital connectivity and inclusion, and the implications for the ways they were using technology in adult social care.#
our guests:
Ann Williams,
Commissioner and Contract Manager, Liverpool City Council
Geoff Connell,
Director of IMT & Chief Digital Officer,  Norfolk County Council
Sarah Rank,
Head of Business and Technology for Adult Social Services, Norfolk County Council
James Bullion,
Executive Director of Adult Social Services, Norfolk County Council
Technology enabled care services and systems are facing a challenge in the form of the switchover from analogue to digital telecommunications networks. The major telecommunications networks are moving their networks from analogue to digital connections, with implications for all people and services that use these networks, including TECS as they may no longer function reliably. This is a pressing issue as although the switchover will be completed in 2025, it is already underway in some areas of the UK. For TECS to function reliably, service providers and commissioners will need to consider how they will manage the digital shift. There are cost implications related to this shift- not only replacing the analogue with digital devices, but also the resources required for associated installation and support and the ongoing costs related to SIM cards. There are also issues around the functionality of digital TEC devices, as they will not have the same battery back-up as analogue-based devices, which could leave users vulnerable in a power cut.
TEC Services Association (TSA) has been central in driving the case for analogue to digital transformation for the Technology Enabled Care market since 2017 with its initial publication of the White Paper A Digital Future For TEC. The TSA's latest publication – Analogue to Digital: A Commissioner's Guide is due for release in December 2021 and provides guidance on a series of key topics that Commissioners and Buyers of digital devices and platforms need to consider in order to ensure that they are making the right long-term decisions for their organisation. Many stakeholders with commissioning and purchasing responsibility have held back from fully investing in end-to-end digital solutions due to a fear of making an investment decision in technology that would not stand the test of time or be sustainable. However, the latest guidance is designed to incorporate lessons learned from around the UK and abroad to provide stakeholders with accurate and consistent information. The TSA will continue to work closely with its members and industry stakeholders to provide information and guidance across a range of media in order to support the TEC sector in the progression to full digital solutions.
Sustainable Care Programme research with stakeholders from across the care sector, including commissioners of services, found that for some the digital shift was opportunity to rethink and redesign services beyond replacing analogue devices with digital versions. For others commissioning services however, it was a challenge in terms of the scale of investment needed and were hopefully waiting for government guidance/ investment. In our research, we also heard about examples of local authorities facing challenges related to the digital connectivity and infrastructure needed to provide digital TECS, and some that were exploring ways to 'fix the plumbing first' and address these issues. With local authorities and users exploring how mainstream digital devices may facilitate care and connections, digital infrastructure is increasingly important.
---Intro/outro music: Ambient Cool by Sunsearcher is licensed under CC BY-SA 3.0
Gain/fade effects applied